When your teeth are perfect and we remove your braces, you will finish your treatment by wearing a retainer. This is the last stage of treatment, called retention.
The success of this stage is solely up to you, the patient. You should wear your retainer 24/7 until instructed differently by Dr. Hansen or one of his staff.
Take out your retainer before you eat or drink anything other than water, and remember to brush your teeth after each meal before putting your retainer back in your mouth.
To clean your retainer, you can soak it in a cup of warm (not hot) water or mouthwash, or brush it gently with a clean toothbrush, and no toothpaste.
If you have any other questions about your retainer or how to take care of it, please call the office. We'd be more than happy to assist you!
Essix Retainers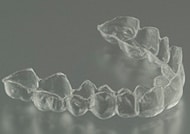 The Essix retainer is a transparent, removable retainer that fits over the entire arch of your teeth. Similar to Invisalign trays, Essix retainers have no wires. Essix retainers are most commonly used in the retention stage of orthodontic treatment; however, they can also be used for other treatment such as minor tooth movement.
Fixed/Permanent Retainers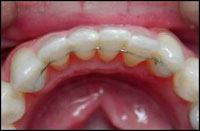 Bonded lingual retainers are cemented directly to the inside surface of your lower canines (eye teeth). This is one of the easiest ways to prevent your lower teeth from shifting, since your retainer is permanently attached.
Patients with bonded lingual retainers must be careful with their bite, as the bonding material may break due to incorrect biting and cause teeth to shift quickly. As with removable retainers, it is important to keep them clean. When brushing, make sure to carefully clean the inside of your lower teeth as well as the wire.
If your retainer breaks at any time during treatment, please do not adjust it yourself. Call us immediately to schedule an emergency appointment.